Need for ACC ECOMaxX
As a modern building material, concrete allows you to be creative and sustainable at the same time. The durability of its components and structures, its heat and fire resistance, as well as its strength, are essential aspects with which concrete already scores highly as a construction material. With ECOMaxX, we now add another dimension, a green element to its performance that will increase its sustainability even more.
To be positioned as an industry partner with a vision for a better future
To become an active contributor to the conservation of the global environment
Provides an opportunity to do something for nature and be a part of the Ecological Agreement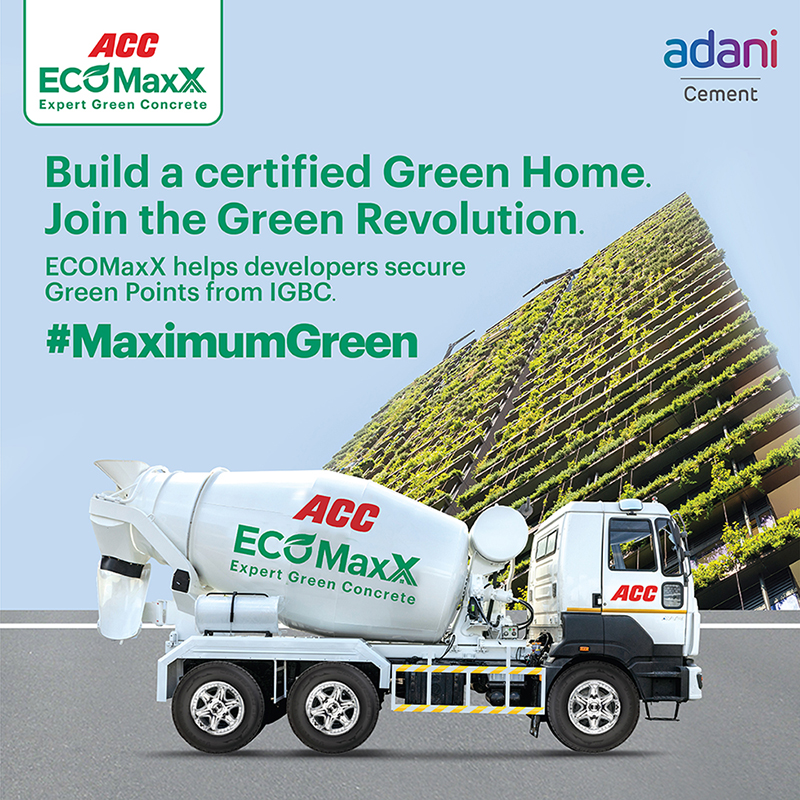 ACC ECOMaxX Specifications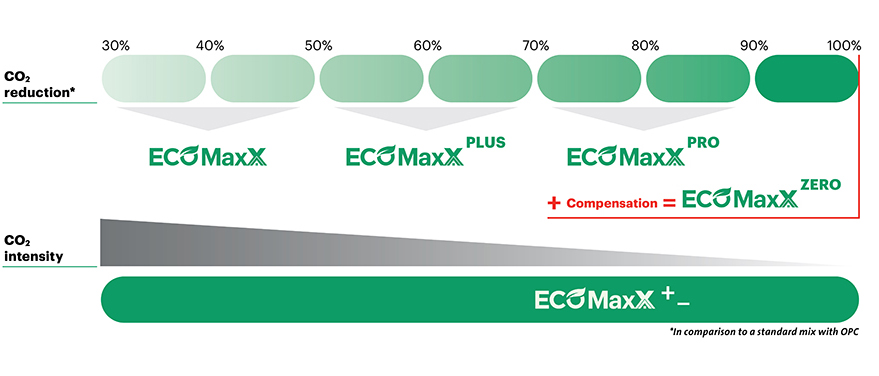 ECOMaxX PLUS :
With a CO2 reduction level between 50-70%, ECOMaxX PLUS is a technically more demanding product that provides a significantly higher reduction than the general standard available in a given market.
ECOMaxX PRO :
With ECOMaxX PRO we exploit the technical possibilities to the Maximum and push our technical expertise to offer you this top of the line product with a CO2 reduction greater than 70%.
ECOMaxX ZERO :
This is a unique product representing our carbon-neutral concrete offer. ECOMaxX ZERO is a combination of concrete technology excellence and climate action. With ECOMaxX ZERO we give you the opportunity to eliminate the carbon footprint of your concrete and greatly reduce the overall carbon footprint of your concrete structures.
Areas of Application
Our ECOMaxX products are suitable for all structural components, from foundations to columns and beams, external or internal walls, driveways, walkways etc. Further applications are technically possible and can be discussed with our concrete technologists.
Our ECOMaxX concrete products can be manufactured throughout India and delivered within the standard delivery radius of the concrete plant.
ECOMaxX is available in a variety of strength classes and is compliant with the standards. Due to the favourable properties of Supplementary Cementitious Materials [SCM] and the chosen cement types, the ECOMaxX range will demonstrate comparable or better properties than conventional concrete. Furthermore, it can be handled, pumped and finished like conventional concrete.
With the ECOMaxX ZERO, we go one step further: We enable full offsetting of process-related CO2 emissions through certified environmental projects. And even better, ECOMaxX ZERO works for all structural components and allows you to be carbon-neutral in all areas of your building. This is how it works:
You order the required type and quantity of ECOMaxX ZERO based on your specifications.
We calculate the carbon footprint of the quantity and recipe ordered.
We produce and deliver the desired concrete to the destination.
We acquire climate certificates in the amount of the resulting CO2 emissions and pass them on directly to you.
You will receive your climate certificate