Sanitisation drive
+
-
Like many other villages across the country, the current lockdown due to the COVID-19 outbreak has disrupted the lives of many, including over 13,000 inhabitants of Dehlan, the largest village of Himachal Pradesh. To help protect local communities against the pandemic, ACC TRUST joined hands with the local village authorities of Dehlan, to sanitize the entire village comprising ~250 households. ACC TRUST is also distributing food packets of essential items such as pulses, oil and sugar to help people in the village to tide over the crisis.
YOUTUBE

Extending support to migrant workers
+
-
India's three-week lockdown to stop the contagion of COVID-19 has badly impacted migrant workers who live far away from their families. ACC is providing fuel wood to brick kiln labourers stranded in Medersara village in Chattisgarh, working alongside the local gram panchayat which is making food arrangements for the labourers. Every single one of us has to play our part in the fight against COVID-19 and ACC is committed to do its bit.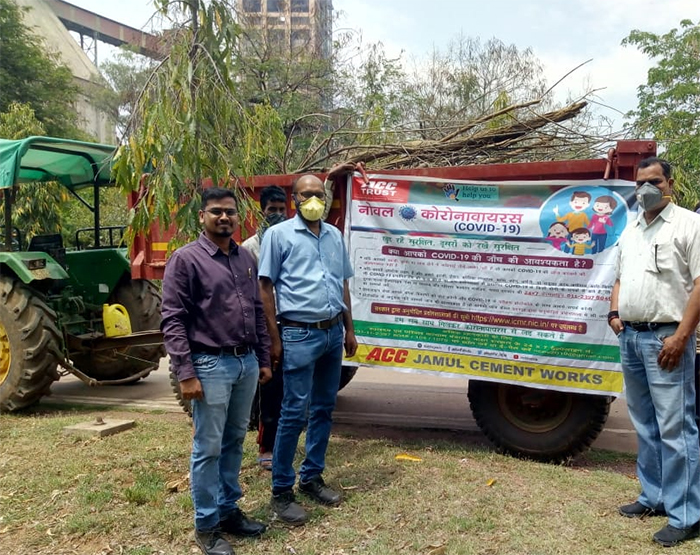 Protecting frontline workers
+
-
Hundreds of women are working round-the-clock to produce face-masks for frontline workers fighting COVID-19 across the country. As India is facing an acute shortage of face-masks, ACC TRUST has stepped in and engaged its associate Self Help Grops (SHGs) across its countrywide ecosystem to produce three-layered face-masks that are the need of the hour. Over the years, ACC' s alternative livelihood DISHA centres have trained thousands of women in local communities in vocational skills such as industrial tailoring and encouraged them to form Self-Help Groups (SHGs). Now, to protect workers who are fighting on the frontlines, ACC is using this network of trained women to produce much-needed masks for local municipalities, santitation workers, vegetable vendors and those who are providing essential services. It also helps them contribute to the household income at a time when other family members are not going out to work. ACC TRUST has produced and dispatched ~ 23,000 triple-layered masks thus far, and in the next few days, another 20,000 masks will be ready for dispatch.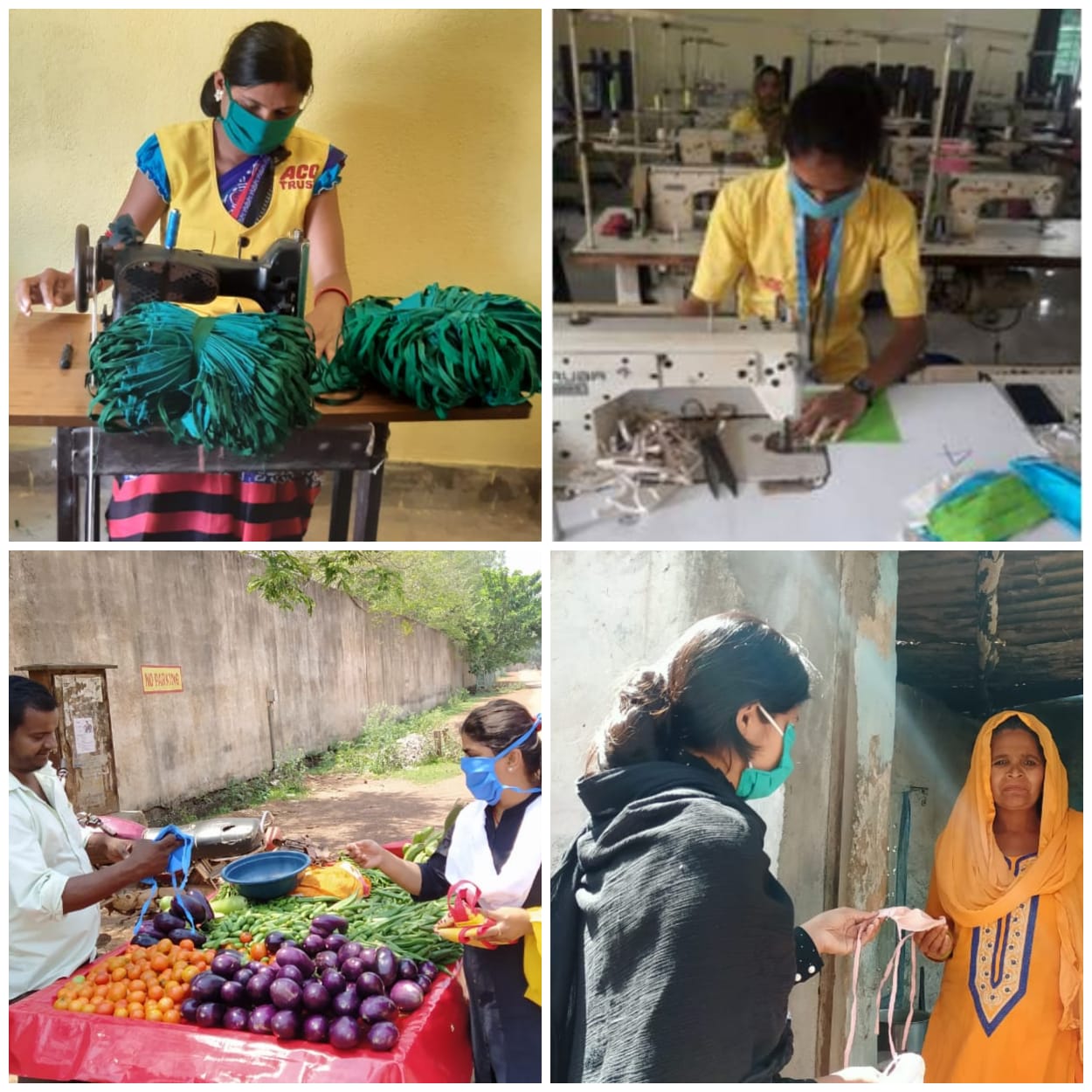 YOUTUBE

Educating about social distancing
+
-
At Khushberiya and Simatand villages in Sindri, Jharkhand, ACC volunteers are walking through the villages with microphones to educate and create awareness on COVID-19 among villagers. Social distancing can reduce India's cases of COVID-19 by up to 62%, says an Indian Council of Medical Research (ICMR) study. Most of ACC's 17 manufacturing units are located in rural areas and our teams are taking the lead to educate neighbouring communities and villages through tele-calling, mobile vans with loud-speakers, posters etc on the immediate need for social distancing, the importance of personal sanitation and respiratory hygiene. ACC has covered ~93 villages in 11 states and the teams are reaching out to many more.
YOUTUBE

Serving food, love and empathy
+
-
We are so proud of our ACC volunteers who are distributing food and provisions to people affected by the COVID-19 lockdown. The lockdown has brought daily life to a grinding halt, disrupted supply chains and made it difficult for migrant labour and communities to secure essential commodities. To ensure that no one goes hungry, ACC TRUST volunteers have distributed more than 10,000 packets of provisions and food across the country so far, and are reaching out to many more.
YOUTUBE

Supporting vulnerable communities
+
-
Wadi in Karnataka's Gulbarga district has rich limestone and sahabad stone mines that attract workers from across the country in search of seasonal livelihood opportunities. The nationwide lockdown on account of COVID-19 and lack of daily wages have adversely affected these workers, forcing them to take shelter in public areas with inadequate basic facilities. We are proud of our ACC volunteers who visited the workers and provided assistance – from ACC's Chief Medical Officer who conducted the primary health screening and educated them on hygiene, social distancing and staying safe during the pandemic, to providing shelter and necessary facilities at ACC colony in Wadi. While they are being quarantined, these volunteers are providing food and provisions as well as basic necessities. ACC is committed to supporting vulnerable communities during this crisis.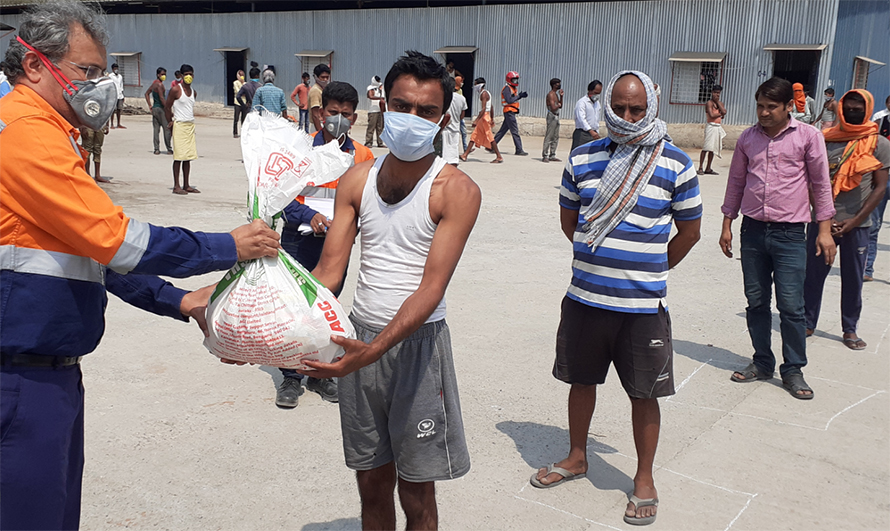 Supporting communities in distress
+
-
Today, hundreds of thousands of labourers across the country are stranded far away from home on account of the lockdown ACC and Ambuja Cements have collectively contributed Rs.3.30 crore to three NGOs - Goonj, Praja Foundation and Mumbai Roti Bank, to provide food and ration kits to daily-wagers and migrant labour stranded due to the lockdown. Our teams of volunteers are also on ground distributing food and provisions to migrant labourers in areas near our operations. We are committed to playing our part in supporting those most impacted by the COVID-19 crisis and supporting communities in distress.